"We had a very specific vision of how we wanted the music to go, so we were a little nervous about finding the right DJ. But when we talked to Dow Oak Events, we knew we made the right choice. They knew a TON about all the different genres we wanted, and they knew exactly how to make it all go together so seamlessly! We knew they'd be good, but not THAT good!" –WeddingWire
At the House of Love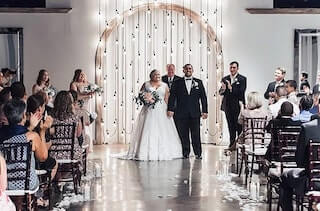 First thing: those hanging lights are a part of the venue. And that… is awesome.
Without a doubt, this wedding at Villa de l'Amour was one of the smoothest High Point Weddings we've done. And we have the vendor team to thank for that. Truly, Jenn with Knot Your Average Events and her team are some of the absolute best in the business. And as DJs/Event Facilitators, this is super important to us. However, it doesn't just make our lives easier. It makes everyone's lives easier. In other words, we really can't say enough good things about her.
Furthermore, check out the pictures. With Allen Nop Photo, we knew they would be off the chain. On top of everything, there was awesome Italian food. So there was really nothing but good things going on here. While we figured it would be good, we didn't know how good it would be.
Nothing But Good Things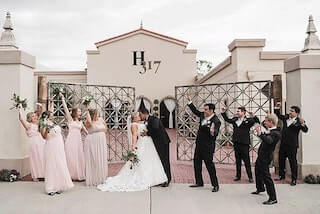 Now, let's talk playlist. We went from wedding classics into Latino beats and salsa style dancing. Anyone can get down with that. Believe us, everyone did. Danza Kuduro, Suavemente, Mi Gente… these people knew their stuff. The dance floor was absolutely packed. How could it not be with music this hype? Obviously, it was a party.
Thanks to Kristine and Joe for letting us be a part of your big day!
---
Vendor Team
Venue
Villa de l'Amour "House of Love" Wedding Venue
317 S Hamilton St High Point, North Carolina
villadelamour.events@gmail.com 336-847-1509
www.villadelamourweddings.com
Photography
Allen Nop with Allen Nop Photo
allennopphotography@gmail.com 336-686-3905
https://www.allennopphoto.com/
Coordinator
Jennifer Ball with Knot Your Average Events
jenn@knotyouraverageevents.com 910-617-2271
https://www.knotyouraverageevents.com/
Officiant
Perry Hardison
perryhardison@gmail.com 919-618-3359
www.perryhardisonweddings.com
Linens
Party Reflections, Inc.
336-852-6085
www.partyreflections.com
Catering
Maria's Gourmet Catering and Foods To-Go
Maria's Gourmet Catering
mariasgourmetcatering@gmail.com
https://www.marialovesfood.com/
DJ
Dow Oak Events
booking@dowoakevents.com 336-213-7528
www.dowoakevents.com
Cake
Publix Events
events.1582@publix.com 336-905-8617
www.publix.com
Flowers
Eliot Thomas with The Garden Outlet
eliot@gardenoutletnc.com 336-643-0898
Hair/Make-up
Face Forward
Ice Cream Truck
Mr. Cone Ice Cream
---
Final Thoughts
We really enjoyed going back through the pictures from this wedding. To be sure, you can feel the energy in them. It was a day we would totally describe as "vibrant." Which is something you can feel in the pictures.
And as a final note, we just need to say… We absolutely love what we do. Being a part of the unique and personal ways couples celebrate is why we do it. And we loved being a part of this celebration. It's always awesome to see how couples choose to celebrate.
In conclusion, we've learned that being a wedding DJ in High Point isn't just about playing the music. So we take our role seriously. Facilitating such a big day is a serious job! That's why we always give every wedding or event our all.
---
---