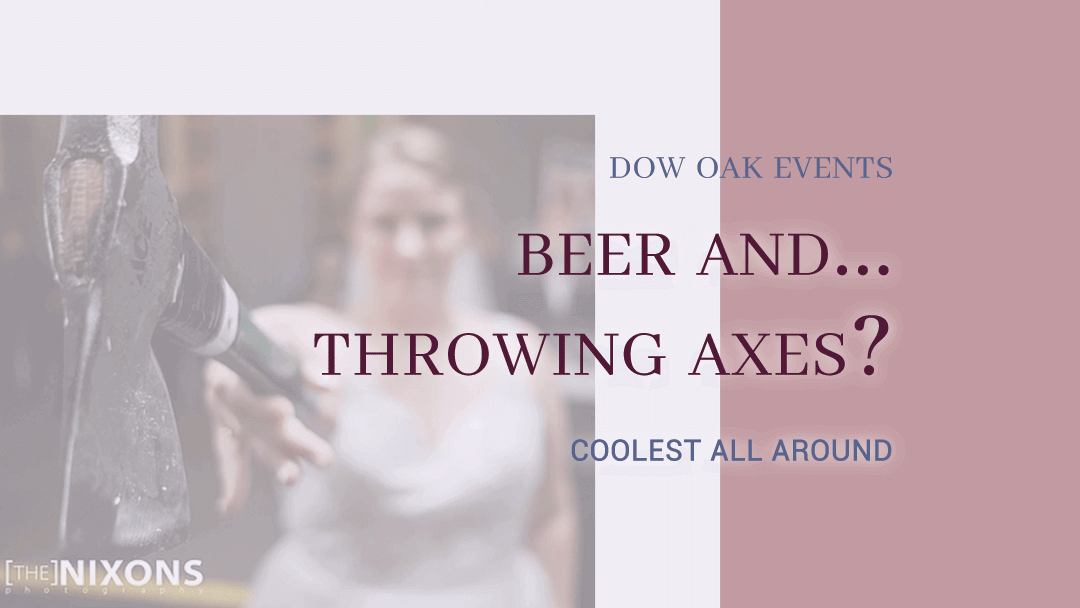 "Soooo happy we went with Dow Oak Events! After talking to Henry we knew the big day would be GREAT. AND IT WAS!!" –WeddingWire
Coolest Venue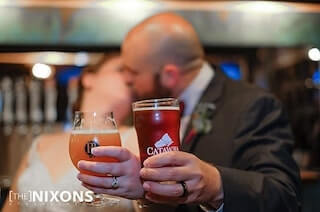 Look at this venue space. The industrial vibe went so well with the beer and axes. In addition, the lighting was on point. The icing on the cake. What's more, the open space was also perfect for dancing. And with the dance floor lights, it was definitely a party. Most importantly, everyone was living it up.
All the vendors working together made this wedding. Cake? Top-notch. Flower arrangements? Off the chain. Venue? Heck yes. Charlotte? Yes, please. And all this rolled into one wedding? A+ for sure. For real though, look at these flowers. The uplighting and the natural light of the venue really made everything look phenomenal. Without a doubt, with The Nixons Photography, we'll be able to remember the exact vibe.
Coolest Night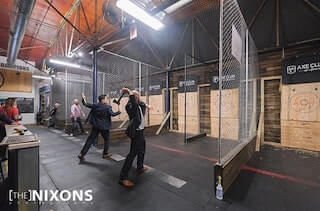 Of course, we had an amazing time. And so did all the guests. Everyone was letting loose and having a good time. Without a doubt, these are exactly the kinds of weddings we love to do.
We especially love doing unique weddings. It's so cool to see how different people make weddings their own. Obviously, this was totally a case of a couple making their wedding their own. It's refreshing for us to see people making ceremonies their own. Unquestionably, with craft beer and throwing axes, this was unique.
Thanks to all the vendors who worked with us to make this night one to remember. Of course, congrats to the newlyweds also!
---
Vendor Team
Venue
Catawba Brewery The Barrel Room
www.catawbabrewing.com
info@catawbabrewing.com
Wedding Coordinator
Kimmy
www.catawbabrewing.com
kimmy@catawbabrewing.com
Officiant
Eddie Lovin
eddie.lovin@gmail.com
Photographer
The Nixons
www.nixonstudios.com
hello@nixonstudios.com
Entertainment
Dow Oak Events
www.dowoakevents.com booking@dowoakevents.com
Caterer
Maxwell Catering
www.maxwellcatering.com
askcheflisa@maxellcatering.com
Cake Decorator
Easy Peasy
www.easypeasydnd.com
easypeasydnd@gmail.com
Floral
The Flower Diva, Inc.
www.theflowerdiva.com
flowerdiva@pinevilledsl.net
---
Final Thoughts
This was one of the coolest venues we've ever been to. All in all, between the beer, axes, and the couple… it was super cool. Working with all these phenomenal people in this amazing venue was unforgettable. In other words, everything about it was awesome.
And as a final note, we just need to say… We absolutely love what we do. Being a part of the unique and personal ways couples celebrate is why we do it. And we loved being a part of this celebration. It's always awesome to see how couples choose to celebrate.
In conclusion, we've learned that being a wedding DJ in Charlotte isn't just about playing the music. So we take our role seriously. Facilitating such a big day is a serious job! That's why we always give every wedding or event our all.
---
---