"We had a wonderful experience working with Dow Oak Events and Erik. They were easy to work with, their planning tools were great and helpful to me in my planning process, and Erik was happy to customize the reception to just how I wanted it. He had the dance floor full all night long, and everyone had an absolute blast! We could not have asked for a better DJ experience for our wedding!"
Success Stories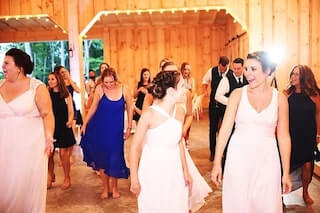 YES! We love a great success! We love it when our clients are fully satisfied. So we always strive to go above and beyond. It is a great feeling to help make someone's big day the best it possibly can be. And that is why we love our job!
The flowers and table decorations put together by Sophisticated Florals by Stephanie were perfect! We can always get down with awesome floral arrangements.
Straightaway, we could feel the love captured in these photos by Helen with Visuals by Helen. The entire day was filled with that amount of love! We could feel it not only from Mr. and Mrs. Canovai, but from the bridal party, the guests, and all the way to the vendors.
Flowers, Food, and Festivities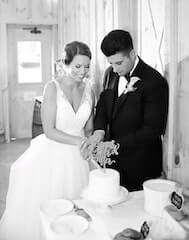 For now, let us take a second to admire… Not only those amazing flowers and table decoration, but also THE FOOD! City BBQ killed it. Without a doubt, his dinner was some of the best catering we have had in a long time. We can definitely say City BBQ never disappoints. And then…. there were DOUGHNUTS! Delicious, easy to eat and just enough. Great work Cake and All Things Yummy!
As a result of awesome requests, the music selection was so much fun! Bruno, Usher, Whitney, Michael Jackson, ABBA… and the list goes on! There was dancing the entire reception!
A huge thanks to the newlyweds for letting us be a part of their big day. And another huge thanks to all the vendors for all working together so well!
---
Vendor Team
Venue
Old Homeplace Vineyard 623 McGee Rd, Winston-Salem, NC 27107
oldhomeplacevineyard.com
Wedding Planner
Pam Buie Pinedale Christian Church
Minister Jon Hauser jonhauser@pinedale.org pinedale.org
Photographer
Helen Powell Visuals by Helen helen@visualsbyhelen.com visualsbyhelen.com
Caterer City BBQ shart@citybbq.com citybbq.com
Cake Baker Cake and All Things Yummy sheilavcake@gmail.com cakeandyummies.com
Florist
Stephanie Karadzhov Sophisticated Florals by Stephanie sophisticatedflorals@gmail.com
---
Final Thoughts
There's always one thing that stands out for us in every wedding we do. (Other than the newlyweds). In this case it was absolutely the food. It really is hard to go wrong with BBQ. But this BBQ… this was something else.
And as a final note, we just need to say… We absolutely love what we do. Being a part of the unique and personal ways couples celebrate is why we do it. And we loved being a part of this celebration. It's always awesome to see how couples choose to celebrate.
We've learned that being a wedding DJ in Winston-Salem isn't just about playing the music. So we take our role seriously. Facilitating such a big day is a serious job! That's why we always give every wedding or event our all.
---
---
See more Dow Oak Videos.