"Erik did an amazing job at our wedding! We hired him sort of last minute as our other DJ fell through, but I was SO GLAD that we found him! He worked with me tirelessly before the wedding to make sure he knew what songs we wanted to be played. I was even texting him last-minute corrections on the day of the wedding, and he responded quickly and calmly – two VERY important things for a bride! He did a great job "reading the crowd," and kept us all dancing long into the night.

Several of my friends remarked that the dance floor stayed crowded all night, and even went as far as to say that it was the best dance party at a wedding that they'd been to. Overall, we were extremely satisfied with Erik's services and would not hesitate to hire him again!" –The Knot
Reading the Room
Wowza. Now that is a review. It definitely hits on all the things we pride ourselves on. Quick response, reading the room and keeping the dance floor packed. Sometimes even when things don't seem to get off to a stellar start, they end up being some of the best!
That was definitely the case here. One of the first weddings we have evidence of doing was a last-minute fill-in. A buddy of ours was friends with the bride and had referred us. We were even texting with her on the way to figure out some last-minute music requests. We were scrambling. But we were able to grab a phone hot spot during the drive to download a few songs just in time.
Throwbacks and Pop Hits Galore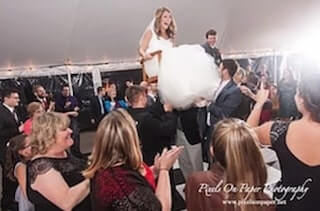 This sounds like it would be a recipe for disaster. But honestly, it was one of the biggest dance parties we've ever seen.
The guests definitely didn't expect such a crazy mix of dance music oldies and modern jams coming from a 24-year-old. At the time, we didn't have all of the awesome gear we have now, either. But luckily, our skill in mixing speaks for itself.
Pixels on Paper was the photographer, and thanks to them… we do have some awesome pictures.
---
Vendor Team
DJ – Dow Oak Events
Photographer – Pixels on Paper
---
Final Thoughts
It's crazy how so many things end up going so differently than you expect. And that was the case here, but in the best possible way. We ended up having such an awesome time, and we know all the guests did too. A great wedding all around!
And as a final note, we just need to say… We absolutely love what we do. And meeting new people and being a part of the personal touches they add to their wedding celebrations is why we do it. We loved being invited to be a part of this celebration. It's always awesome to see how couples choose to celebrate.
We've learned that being a wedding DJ in Durham isn't just about playing music. So we take our role seriously. Facilitating such a big day is a serious job! That's why we always give every wedding or event our all.
---